Armageddon's Son
Greg Ballan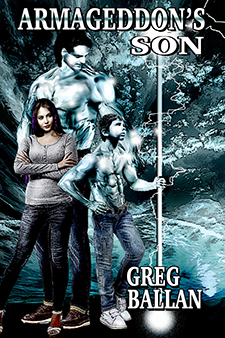 Coming Soon from Hadrosaur Productions!
---
The forces of Light and Dark wage war on and above Earth as each side seeks human allies to advance either the destruction or salvation of an ignorant mankind. In one bold, desperate act, an agent of Chaos has stolen the most powerful and coveted holy relic from the very heart of Vatican City, The Ruby Crucifix of Christ. This powerful relic was carved from the very cross where the savior was nailed, and is stained with His blood. This holy relic is said to be the instrument to end Armageddon and herald a new age of Man.
Ex-CIA Agent Erik Knight is recruited to assist his mentor, Martin Denton, in discovering the identity of the mysterious thief and locate the stolen relic. The agents soon realize the clergy of Vatican City have secrets and political schemes surpassing even Washington DC's politicians. In order to solve the mystery, the agents must break through the papal code of silence and accept that the world as they know it is mere illusion, hiding a brutal physical and spiritual war of 'Good' versus 'Evil'. As Erik Knight digs deeper into the mysteries of faith, he realizes his own alien ancestry is linked to biblical prophecy. Is he the fabled 'Armageddon's Son'?
Copyright 2019 Hadrosaur Productions