Revolution of Air and Rust
David Lee Summers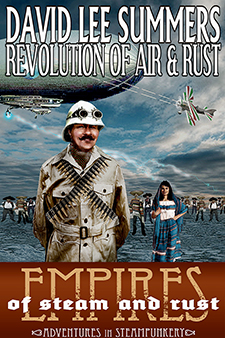 ---
1915. Teddy Roosevelt is building an empire. Only Pancho Villa stands in his way.
The American Expeditionary Force under the command of General "Black Jack" Pershing has invaded Northern Mexico. Pancho Villa leads his revolutionary army in a desperate raid against the American force only to be outflanked. Just as Pershing's airships prepare to deliver the death blow, Pancho Villa is transported to a parallel Earth where he finds an unexpected ally and the technology that might just turn defeat into victory.
Revolution of Air and Rust is a stand-alone novella set in the Empires of Steam and Rust world created by Robert E. Vardeman and Stephen D. Sullivan. A story filled with millitary action, espionage and gadgetry that's sure to satisfy fans of steampunk and alternate history.
Other books in the series are:
---
"This novella takes place in 1915 in a steampunk world where the Mexican rebel Pancho Villa is the good guy and his arch-enemy Black Jack Pershing is about to crush the Villa revolution. Pershing has a fleet of airships and an invading army and seems certain to win … That's the basic situation in this fast moving and gripping story by David Lee Summers." Neal Wilgus, The Supplement.
Copyright 2022 Hadrosaur Productions