The Solar Sea
David Lee Summers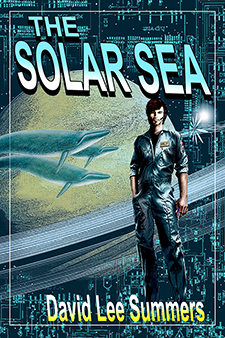 ---
Whales around the world changed their songs the day scientists announced the discovery of powerful new particles around Saturn's largest moon which could solve Earth's energy needs. The Quinn Corporation rushes to build a solar sail space craft to unlock the secrets of these strange new particles. They gather the best and brightest to pilot the ship: Jonathan Jefferson, an aging astronaut known as the last man on Mars; Natalie Freeman, a distinguished Navy captain; Myra Lee, a biologist who believes the whales are communicating with Saturn; and John O'Connell, the technician who first discovered the particles. Charting the course is the mysterious Pilot who seems determined to keep secrets from the rest of the crew. Together they make a grand tour of the solar system and discover not only wonders but dangers beyond their imagination.
---
"This story follows the private space industry exploration of the Moon and becomes a kind of "Voyage of the Beagle" as the solar sail ship Aristarchus visits Mars, Jupiter, then Saturn and its giant moon Titan … The writing is smooth, the scenes well written, and the pacing is well done. Highly enjoyable read. Highly recommended." T. Jackson King, author of Battlestar and Star Glory.
"The Solar Sea captures the thrill, threats, and theories of exploring the unknown. Summers does what explorers have done for centuries, inspire us to look beyond our own backyards out into the vast possibilities of our imaginations." Nicole Givens Kurtz, author of Zephyr Unfolding and the Cybil Lewis Detective Series.
"In
The Solar Sea
, David Lee Summers creates a page-turning yarn with some of the most dramatic characters I've read in years. You won't want to put it down, and when you're done, you'll only want more." J Alan Erwine, author of
The Opium of the People.
Copyright 2022 Hadrosaur Productions